Product Item: Square & Rectangle Alumina Ceramic Boat /Crucible
Size Details :
Square Alumina Ceramic Crucible

Item No.
length (mm)
width (mm)
height (mm)


Item No.
length (mm)
width (mm)
height (mm)
CS-AS-001
27.5
23
10


CS-AS-036
100
10
10
CS-AS-002
30
20
16


CS-AS-037
100
20
20
CS-AS-003
35
35
40


CS-AS-038
100
40
20
CS-AS-004
40
40
40


CS-AS-039
100
20
15
CS-AS-005
50
10
10


CS-AS-040
100
20
20
CS-AS-006
50
12
10


CS-AS-041
100
30
20
CS-AS-007
50
20
20


CS-AS-042
100
30
25
CS-AS-008
50
25
10


CS-AS-043
100
40
20
CS-AS-009
50
40
20


CS-AS-044
100
50
30
CS-AS-010
50
50
25


CS-AS-045
100
60
30
CS-AS-011
50
50
50


CS-AS-046
100
70
30
CS-AS-012
50
25
35


CS-AS-047
100
100
30
CS-AS-013
52
25
23


CS-AS-048
100
100
35
CS-AS-014
60
30
15


CS-AS-049
100
100
45
CS-AS-015
60
30
20


CS-AS-050
100
100
50
CS-AS-016
60
40
15


CS-AS-051
100
100
90
CS-AS-017
65
23
18


CS-AS-052
110
24
17
CS-AS-018
70
12
7


CS-AS-053
110
80
40
CS-AS-019
70
70
35


CS-AS-054
110
110
35
CS-AS-020
75
15
10


CS-AS-055
110
80
40
CS-AS-021
75
18
14


CS-AS-056
120
30
15
CS-AS-022
75
20
20


CS-AS-057
120
75
40
CS-AS-023
75
52
50


CS-AS-058
120
60
20
CS-AS-024
75
75
15


CS-AS-059
120
60
40
CS-AS-025
75
75
30


CS-AS-060
120
80
30
CS-AS-026
75
75
45


CS-AS-061
120
80
40
CS-AS-027
80
10
10


CS-AS-062
120
120
30
CS-AS-028
80
80
40


CS-AS-063
120
120
50
CS-AS-029
85
65
30


CS-AS-064
140
140
40
CS-AS-030
85
85
40


CS-AS-065
150
20
20
CS-AS-031
90
60
20


CS-AS-066
150
150
50
CS-AS-032
90
60
35


CS-AS-067
160
160
80
CS-AS-033
90
60
40


CS-AS-068
200
100
25
CS-AS-034
90
65
30


CS-AS-069
200
100
50
CS-AS-035
90
90
30


CS-AS-070
200
150
5
Alumina crucibles with lid features:
1.High purity: Al2O3 90% 95% 99% 99.5% 99.7% for choose, good chemical corrosion resistance
2.Good temperature endurance, long-term use at 1600 ℃, 1800 ℃ short-term
3.Good rapid thermal shock resistance, not easy to burst
4.Slip Casting with high density
5.Rectangular alumina crucible, square alumina crucible, boat alumina ceramic crucible, column ceramic crucible and a variety of shaped alumina ceramic crucible. All kinds of shaped alumina crucibles can be customized.
6.Suitable for sample analysis and melt of laboratory metal, non-metallic materials.They are competent in high temperature application, like metal processing, glass melting, ra
pid thermal cycling, and gemstone purification for jewelry industry.
Shpe details :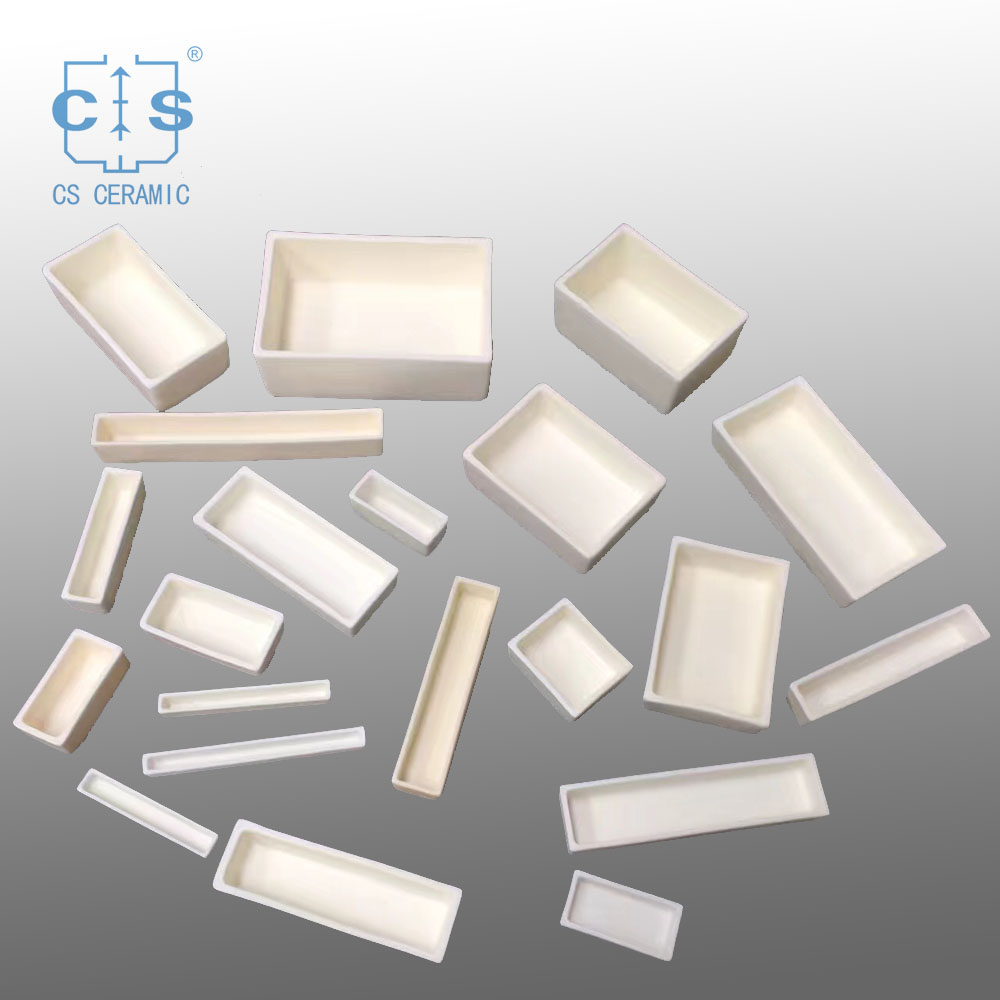 If need open new mould, please send us detail specification and design drawing firstly, we'll reply you in 24 hours. Contact email: info@csceramic.com